PGA Championship at TPC Harding Park
7
Professionals Contributed |
The first major of the year is finally here! It's at TPC Harding Park right outside of San Francisco. How does this course stack up against other courses we've played? Let's find out.
Actually playing the PGA Championship at Harding Park
This is my 7th PGA Championship. The golf course is set up beautifully! The rough is long and fairways are narrow! With the wind blowing and the marine layer it feels like fall to winter golf. A premium is put on your drive to have access to the hole locations.
With no fans it's a bit eerie and the face masks make people unrecognizable. Although you can recognize the other players by their golf swings. I shot 71 in the opening round. I look forward to a low one tomorrow. My tee time is 7:20am which will be cold! Off to bed now to get ready for tomorrow's round.
"Actually playing the PGA Championship at Harding Park" @roblabritzgolf
Click to Tweet
Direct Link
Working for television there now
Course is set up almost like a US Open venue. Narrow fairways and some deep rough. With no spectators, that rough is going to stay long. My first group I walked with chopped out five times. No chance other than a layup.
Direct Link
Really want to improve your golf game? Get incredible swing tips delivered to your inbox every week.
Tough golf course.......especially from the rough.
I remember the Lucky Invitational in the 60's but the golf course was totally different. Today's Course is very fair but does require playing from the fairway.
It will be fun to watch Phil.
Orrin Vincent
,
Founder
OB Sports, Scottsdale, AZ
"Tough golf course.......especially from the rough." @odvtwo
Click to Tweet
Direct Link
City by the Bay
I grew up in Atherton about 30 miles south of Sf where summer temps are dry and mid 80s. But I played a lot of golf and junior golf at Lake Merced, SF CC, and the Olympic Club. Soft fairways, fog and wind usually present but such gorgeous courses. The guys in the afternoon might have an advantage for when fog burns off . Length helps due to soft conditions but the fairways are so narrow that I would take accuracy of the tee over length.
Direct Link
Best course in San Francisco, period!
I have played Harding Park many times…From the late 1960's to the 80's in the San Francisco City Championship…Why it's my favorite and I have played all the big names in San Francisco is because of the variety of different type's of holes…Not all the same in your face hard like the Olympic Club…It has a friendly atmosphere for golf not country club attitude like San Francisco Golf Club, Lake Merced and Cal Club…Hole for hole a excellent place to play golf!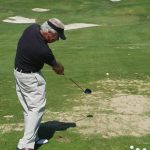 Direct Link
West Coast guy
unlikely anyone outside the west coast comes away with this one. the weather, the juicy rough, the dead rough and the grainy greens makes this one a locals dream – look for Colin, Xander and other with ties to the left coast
Direct Link
A real beauty..
Beautiful lay out challenging greens. And thick rough, beware the straight shooter.
Direct Link