What's your favorite putting training aid?
12
Professionals Contributed |
There seems to be a million training aids on the market when it comes to putting. So we asked our professionals to give us a few of their favorite training aids to help you in your decision.
Seeing is believing!
For me, my favorite putting aid is the EyeLine putting mirror. I've used the small version and currently have the new groove model in my bag. I use this mirror before every tournament round as well as every practice session. It's simple to set up and hits multiple putting facets all in one. I place the mirror down about 4 feet away from the hole on as straight of a putt as I can find. Once I have my spot, I get in my setup and check my eye position for the day. I find that what feels comfortable for myself changes ever so slightly throughout the season. This allows me to dial in my setup before heading out.
Next, I place 2 tees in the slots to create my putting gate (just barely enough room for my putter to fit through). Now that I have my setup dialed in and the putter get setup, I can now work on feeling my stroke and seeing ball after ball roll in. I find that it is super helpful to see the ball go in a lot before a round, that way you feel that you can make more putts when you get out on the course.
If you don't feel like dropping some cash down for a company made training aid, tees and coins are the next best thing. You can create putter gates with the tees and start line drills with the coins. It's all about feedback. If what you are using isn't providing you with significant feedback, you may be using it wrong or that training aid isn't the right fit for your game. You know your game the best so always be sure to do and use what is best for you. Happy golfing!
Direct Link
Rubber Bands and Yard Sticks
Being able to control the face of the putter through impact is priority #1. This enables you to hit the sweet spot of your putter consistently with a consistent face position that allows the ball to start on and stay on the start line of any putt.
Use rubber bands to highlight the sweet spot of your putter to enhance your ability to hit the sweet spot every time. If you're off and hit the rubber bands, you'll feel it, and the ball will not stay on line.
Use a yard stick to understand many things, face square at set up, intended line identification, and most importantly, to work on your ability to initially keep every putt on its intended line.
Supporting Images: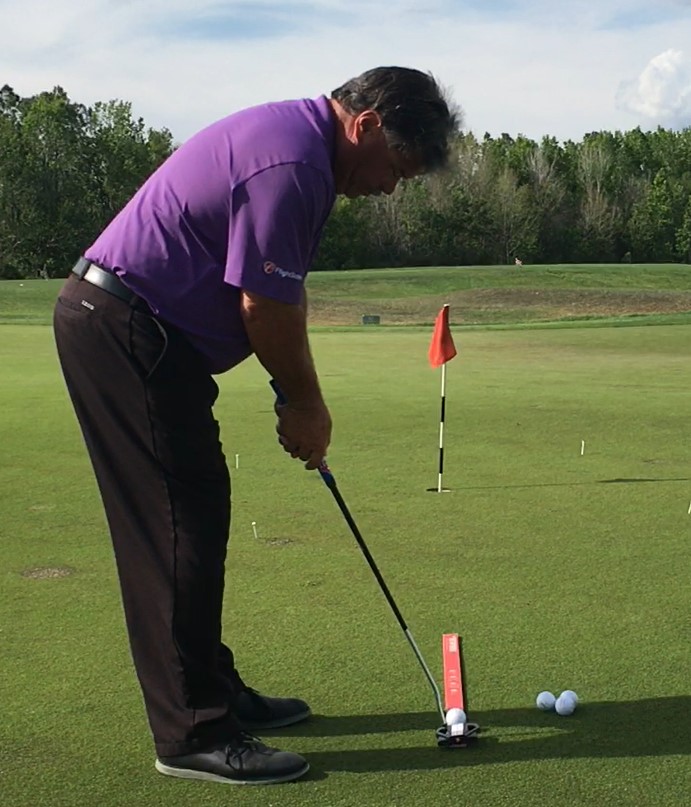 Direct Link
Really want to improve your golf game? Get incredible swing tips delivered to your inbox every week.
Simple Yet Effective
A 4ft ruler from your local hardware store. The yellow ones are best as one side is blank and even comes with a 1/4″ hole pre-drilled at the end.
Place your golf ball on the drilled hole and putt down the ruler at various speeds on a level surface. If your golf ball makes it all the way down the ruler, you know your club face is within 1 degree of square at impact. This is one of the best training aids to work on the start-line of your putts.
Other benefits of the ruler include it fitting right next to your driver in your golf bag, and the fact it can be used indoors or out on a real putting green. Best $4 training aid in golf.
Direct Link
Putting aids
Every year I get asked by a number of students, what putting aid(s) do you recommend? A couple of my favorites are: the Eye line Golf putting Mirror and the second is an alignment stick. The mirror is awesome for helping players get lined up and also understanding where their eyes and shoulders should be. It also helps with stroke length and path. This comes out many days and it is amazing how many other players that are on the putting green come over and ask about it. I have added a few new students over the years due to it.
The alignment stick is one I use with players of all ability but for beginners it is great for distance control. I have them start at 12 feet and slowly move back to 25 feet. If they can get comfortable "cozying" the ball to the alignment stick they will learn lag putting and it will help their scores go down.
Good luck to all players. Go see your PGA Golf Professional to make your game better.
Direct Link
The chalk line: simple, effective.
The trouble with most putting training aids is that they may not work for every type of stroke. Swinging door, or pendulum? But my favorite is the chalk line, because it works for every type of stroke, and offers direct, immediate feedback. Simply find a straight putt, clip the end of the chalk line over the edge of the hole, and snap the line to make a 3 or 4 foot straight line on the grass. Then start rolling your putts down the line.
Direct Link
Visio
I my favorite putting aids are items that don't guide the putter but build awareness. I tend to use tees or coins for visual aids. My favorite aid to buy in a store is the Visio putting Mat. It's a great template for the face to path relationship and also a great way to see the stroke.
Direct Link
AIDS are nothing more than a crutch.
I don't think Faxon , Crenshaw, Nickalas and Palmer ever used any aids for putting. AIDS are great until you take them away. They build confidence until there gone and then the worst possible thing for putting, panic sets in.
Ever go to baseball spring training? Look around all you see is gloves, bats and balls. They develop there feel and let natural instincts take over.
The best tip putting I ever got was in the Crenshaw book. He said putting is like painting a fence you hands and arms flow with the brush. You are not thinking about anything just the flow of the stroke. AIDS take away all that and make putting just the opposite, controlled and thinking of every stoke.
Tiger only ever used just two tees so I guess if I had to pick one it would be what the best ever used. The great putters on tour most are not using any aids if the are then they are struggling. Like Phil recently, in his prime there was never any aids to be found.
Putting aids
I have a couple of Putting aids that I like.
The Eye Line Putting Alignment mirror does a great job of helping shoulder alignment and eye position at address. It can also make you aware of excessive head movement during your stroke.
The Navigator by Dirty Larry Golf. This is great because it really helps with direction and also if your clubface is square at address and at impact.
If you're not looking to spend much money, Alignment rods are still a great option. They are great for helping with direction and also gives you a reference point of how your stroke is moving back and through.
Direct Link
Drive for show...Putt for dough!
No training aid…Just hit 200 to 300 putts a day plus putt against someone better than you…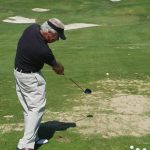 Direct Link
Putter Ball
A putter with a stainless steel head in the shape of a golf ball. Hit it in the middle or else. It can tell you if you are setting up too close or too far away
Putter must swing in a slight arc
My favorite putting training device is the putting arc. I have always believed that the putter swings in a slight arc.
Direct Link
Tee it Up
Don't worry where not playing golf on a Par 3 , Par 4 or Par 5, where going to use on the practice Putting Green. This was brought to the light by Tiger Woods. Place your Putter on the green about 5 feet from the Hole, place a Tee outside the Heel and Toe. From there place a Golf Ball in the Middle make a stroke and avoid the Tees whether using just your Right or Left hand or both. Great drills try them all it helps. Make more Putts and lower your score.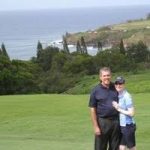 Direct Link